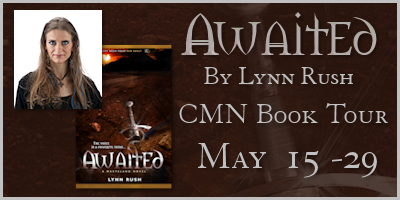 Awaited by Lynn Rush (Book #2 of The Wasteland Trilogy)
Russell Leonard is a centuries-old Guardian who's lost faith in his purpose. So when he's charged with procuring the first female Guardian in over two centuries, he can only hope it's the red-headed beauty who's been haunting his dreams for months. And if it is, he intends to claim her as his. But when he finds his dream woman, Annabelle is mute and bears no Guardian's Mark he soon realizes she's been tainted by an ancient evil. Russell must somehow release the secrets trapped within this delicate soul to help her tap into the only weapon powerful enough to silence a millennia-old demon—her voice.
-------
If anyone can fit a riveting plot line and character development into one book, they are genius! Lynn Rush did just that. When I started reading I kept telling myself I needed a break - but with 86 degree weather and a bathing suit I said heck with it! I now have a little sunburn to prove the Wasteland Trilogy books consume you. I want to relate her writing style to one of Richelle Mead or Kim Harrison ... I think it is because of the depth she adds to the characters. I know I love a book when I am left to think about what will happen or why the story was ended the way it did, often later while I am brushing my teeth or cooking dinner. Lynn did just that! I can't wait until the 3rd book!
Lynn Rush is the genre-breaking author of Crescent Moon Press's (New York City, NY) newest category – New Adult. Rush's novels center on young adulthood – New Adult protagonists are most likely in the range of 18 to 26 years old. In fact, Rush's protagonists are male and the story is seen through their eyes with strong characterization, well developed plots and action-packed storylines.
Rush says she writes paranormal romances for the New Adult audience because it is what interests her. While New Adult fiction may not be the "hot and heavy" romance featured in novels for adults, it's a touch warmer than the "sweet" romance of the young adult novels.
"There's a lot that can happen when you're eighteen or even twenty five years old. The fact is that those same events feel very different at that age than they do when you are twelve years old – or forty years old," explained Rush. "Because I write Paranormal romance, sometimes my characters are centuries old - but their human contacts are in the new adult age range."
For a slave, hope is a dangerous thing.
Margaret Rousseau dreams of freedom from a life of servitude. When a mysterious woman saunters into the servants' tavern promising the impossible, Margaret dares to hope she could win the heart of the one man she has secretly coveted since she first wore a corset... The Prince. Margaret desperately grasps for the opportunity to change her bleak destiny by placing faith in a woman who is not as forthcoming as she seems. Blinded to the stranger's dark motives, Margaret surrenders herself to gain her heart's desires. But her choice may bring forth a darkness that could destroy all she holds dear.